The Authority in House Cleaning
Detail Residential Cleaning's What We Do Best!
Maintaining order and cleanliness in your home can be a challenge sometimes. With days filled with seemingly endless tasks and responsibilities, who has the time to get down on their knees and clean? Here at Exclusive Quality House Cleaning, we have the solutions you seek. We are Round Rock, TX's number one choice for quality house cleaning services, and we promise to scrub, mop, and polish every inch of your properties. Our team specializes in detail residential cleaning. With us, you know your private sanctuary is in reliable, professional hands.
Why Choose Our House Cleaning Company?
100% Satisfaction Guaranteed
Amazing Deals
Exceptional House Cleaning Services
Free Estimates
Friendly and Helpful Staff
High-Quality Cleaning Products
Insured Business
Membership Available
Outstanding Customer Services
Call for Personalized House Cleaning Services
At Exclusive Quality House Cleaning, we understand the importance of finding trustworthy house cleaners to work on your home. This is why we make it a point to choose only the most qualified and responsible individuals to join our team. Your satisfaction and security are our priority. For more information, give us a call or send us a message.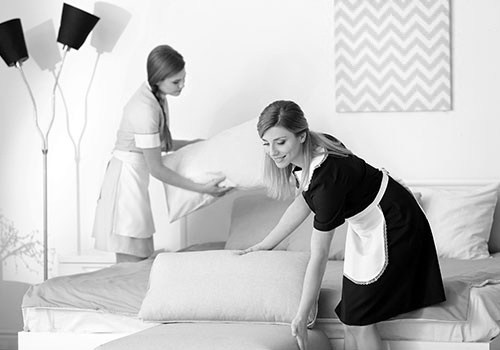 Reviews About Exclusive Quality House Cleaning
"I reached out to many cleaning services for a one-off job (cleaning melted plastic out of an oven) and Exclusive Quality Cleaning was one of the only companies to respond saying that they could do it. All the rest said, "Sorry, we only do whole-house cleaning". Maritza responded quickly and scheduled someone to come out the next morning, and didn't even ask why anyone would be stupid enough to accidentally melt plastic in an oven. Although all communication was via the Yelp app, so maybe she rolled her eyes in front of her computer while responding (I wouldn't blame her).
As for the actual services rendered, the oven was as clean as the day it was installed. Thanks, guys!"
"I have been looking for a house cleaning service that actually does what they say they will do. I've read all the great reviews from other house cleaning businesses and tried a few out but was left disappointed at the end results.
I contacted Exclusive and spoke with Maritza and she came by the house so I can explain exactly what I want done and for her to give me a quote.
Her and her crew came by this past Saturday, on time and did an excellent job. Everything I pointed out that I wanted done was completed, house smelled clean and guests that arrived that evening thought it was a new house.
Maritza and her crew were professional, courteous and did an excellent job. I have hired them to come once a month to clean my house. I 100% recommend this business"
ABE C
(East Austin,TX)
"Maritza is simply amazing beyond words. I have had a lot of people clean my house over the years and she is without a doubt the very best at what she does. Her attention to detail is second to none. Even my 7-year-old boy commented on how clean the house was and said, "Mom, she even cleaned underneath the bed!" And as I said, I have had my house cleaned many times over the years- for my son to notice this is quite a feat in itself! I highly recommend Exclusive Quality House Cleaning!"
Kathleen M.
(Pflugerville, TX)
"I was even running late to let them in and they waited on my at 5p.
The house gets compliments every time somebody comes in. Just in time for my 11yr olds bday party.
Not sure my crew was but will use them and this firm again and highly recommend!"
Michael W
(Cedar Park,TX)
"Maritza and her team are very thorough and detailed oriented. They are never in a rush and take their time going through the whole house. They are specific about setting expectations and scheduling is very easy over yelp messages. They might be busy for very near term appointments but usually 3 days out works well for us. We will continue working with them!
Raj S
"Maritza and her crew are excellent at what they do! Her attention to detail, excellence in service and professional attitude set her above the competition. She's cleaned my personal home multiple times (she remembers personal preferences) as well as completing several make-ready jobs for home sales. We've referred her to clients and everyone has been extremely happy with her work. I feel very grateful to have found Maritza and her company!"
So. Awesome. Hard working and friendly, this house is cleaner than when we moved in. They were here for 5 hours doing a deep clean, and it was worth every penny. Will definitely use these ladies again. I recommend you look nowhere else. They were even unfazed with the dog surveying and sniffing. If we can afford a regular cleaning when we move to the new house, this will be the service we call. Thank you, Maritza!
Leslie K
(Sun City, TX)